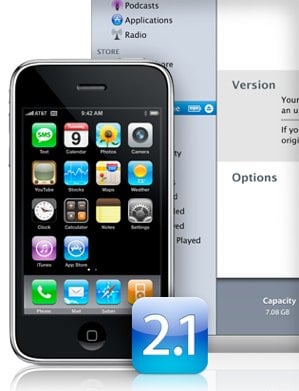 If you have an iPhone 3G or v1 or even an iPod Touch and are still on the old firmware (2.02 for iPhone, at least) you should download version 2.1 right now.
Even though I have not been one of the people with serious reception problems, internet speed problems, serious crashing problems, serious app problems, etc. the new update has noticable enhancements.
First of all, in my bedroom I could get no more than 3 bars. Now, it's 5 bars all the time.
Backing up is much faster with iTunes and it doesn't ALWAYS backup your iPhone when you sync. I hated that. It looks like I don't have to hack iTunes anymore.
Loading new apps is also much faster. Even on the iPhone with 3G.
A minor tweak is a new logo for 3G and EDGE.
Supposedly the battery life is better, but I haven't noticed anything. The only time I run into battery problems is when I use an app that tracks my exercise because the screen has to stay on for the GPS to work. I'm always someplace where I can charge up my phone.
Other enhancements, most of which are associated with the iPod functions, are nicely detailed in this MacWorld article:
First Look: iPhone 2.1
. I do like the new Genius playlist function. After you install 2.1, make you sure do a sync so that your Genius playlist will show up.
Also, don't forget to download the new iTunes 8.0 which is another great update.
Now that we may have covered the problems of the BASIC functions of the iPhone, maybe we can get to push notifications and cut & paste. Frankly, I don't care about turn-by-turn navigation. I have one in the car and I believe that will always function better than any GPS on a mobile phone.